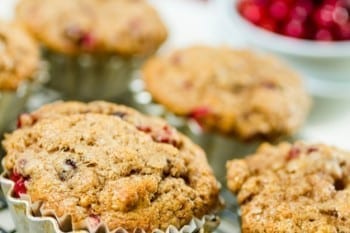 Dec 11 2018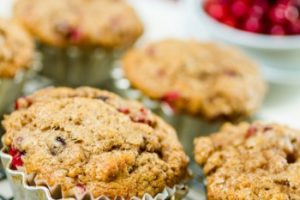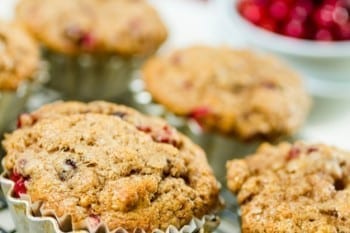 Gluten free, Dairy free, Detox-friendly. This healthy vegan muffin recipe provides a satisfying snack or addition to a morning smoothie. I recently made this for my 19 month old who happily devoured the entire muffin. It is an appropriate holiday muffin with warm spices and orange zing, but can be varied to create many different flavours. Try omitting cranberries and orange zest and replacing them with grated zucchini or carrots, blueberries, blackberries, or raspberries. Apple juice or milk can replace the orange juice
Dry Ingredients:
2 cups freshly ground buckwheat flour
2 teaspoons baking powder
½ teaspoon baking soda
¼ teaspoon sea salt
1 to 2 teaspoons orange zest (I use 2)
1 teaspoon cinnamon
½ teaspoon nutmeg (I keep whole nuts and grate freshly as needed)
Wet Ingredients:
2 tablespoons ground or whole chia seeds
½ cup hot water
½ cup freshly squeezed orange juice
1/3 cup coconut sugar
¼ cup unsweetened applesauce
¼ cup melted coconut oil or olive oil
Other Ingredients:
¾ cup Fresh or frozen cranberries
Preheat oven to 350 degrees F. Line a 12-cup muffin pan with paper liners.
In a medium-sized mixing bowl, whisk together the dry ingredients.
Place the ground chia seeds and hot water into a blender. Blend for a few seconds to combine; let rest for about 2 minutes to form a gel. (This is essentialy your egg-replacer).  Add the remaining wet ingredients to the blender and blend until combined.
Pour wet mixture into dry and whisk together. It should be sticky and stringy. Fold in the cranberries. Spoon batter into muffin cups. You will fill each one ¾ full.
Bake approximately 25 minutes. Cool on a wire rack.
Yield: 1 dozen muffins
Source: Nourishing Meals: Gluten-Free Recipes for the Whole Family