WHY CAN'T I LOSE WEIGHT?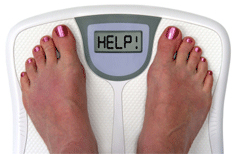 If someone could just help you understand where the weight gain is coming from and why, you might not be so hard on yourself! Adrenal stress? Poorly functioning thyroid? Poor quality sleep? Plummeting sex hormones from perimenopause or andropause (the male version of menopause)? How about insulin resistance? Any one of these reasons slow down your metabolism and tell your body to store fat.
In addition to hormone imbalance, I can help you go through a checklist of potential causes to help pinpoint where the trouble seems to be. Once we identify the cause, your treatment plan can be formulated. Here are some approaches that I use with patients for successful weight loss
2 Week Hormone Detox  &  4 Week Nutritional Cleanse
Promotes wellness, especially when someone has prolonged exposure to chemicals or synthetic hormones.
Promotes weight loss.
Improves energy, arthritis and joint pain, headaches and migraines, PMS, anxiety, frequent colds, heartburn, and constipation.
Is recommended for anyone suffering from autoimmune disease, multiple chemical sensitivity, fibromyalgia, chronic fatigue syndrome, digestive disorders, heart disease, arthritis, ADD, and other chronic degenerative disease.
Dietary detoxification is recommended 1-2 times a year –– preferably in the spring and fall. A dietary detoxification protocol can last from 1 week to 2 months depending on your health goals. I generally recommend a 14- day or 28-day detoxification program and encourage anyone to have a medically supervised detoxification if you've never done one before.
REDUCING TOXINS
Detoxification involves dietary and lifestyle changes that reduce the intake of toxins while improving elimination. External toxins include a listing of the following: Alcohol, smoking, pesticides, tobacco, heavy metals, medications, oral contraceptives, specific foods intolerances in our diet. Internal Toxins can include normal metabolic by-products and excess hormones that build up and are recycled in the body if a person's organs of elimination (skin, lungs, gut, liver, kidneys) are sluggish, impaired or diseased.
A naturopathic detoxification program accounts for the individual and their health concerns in a way that many over-the-counter detox kits do not. Our naturopathic doctor will review your health profile and incorporate a plan that may include:
A guided diet cleanse for the month with recipes
A medical detox food
Supplements to support the organs of elimination (such as the liver, kidneys and lymphatic system)
Optional weekly IV Vitamin Therapy and infrared sauna
HCG RAPID WEIGHT LOSS PROGRAM
If you are motivated to lose weight now and want results, this is the program for you!  This is a medically-supervised 5-week weight loss program utilizing a natural hormone called human Chorionic Gonadotropin (HCG). HCG promotes the metabolism of body fat into energy. So while you consume a low-calorie diet, your body goes to work mobilizing stored fat for energy production instead of from the food you put into your mouth.  The HCG protocol is based on the work of Dr. Simeons who used HCG in addition to a rigid low-calorie diet to direct the bodies of overweight people to burn fat instead of muscle.
 When followed properly and with medical supervision, it has shown to result in fast, effective weight loss. You may be wondering how much weight loss? Women on average lose 0.5 lbs a day, while men will lose closer to 1 lb a day, over a 5-week program. Learn more.
FOOD INTOLERANCE & FOOD ALLERGY TESTING
Unidentified food sensitivities can contribute to many chronic health conditions including irritable bowel syndrome, reflux and heartburn, rheumatoid arthritis, headaches, autism, ADD/ADHD, eczema, chronic ear infections, malabsorption, insomnia, and many others.
TYPES OF REACTIONS
Food Sensitivities & Food Allergies
Ig G Food Sensitivity
Ig G Food Sensitivity (or food intolerance) is a type IV delayed hypersensitivity reaction in the immune system that can occur a few hours and up 72 hours after ingestion of the reactive food. This window of time makes it difficult to link one's symptom to the food eaten a day or two prior. Such hidden allergies are often the cause of many chronic symptoms. The immune response to delayed food reactions are often caused by antibodies other than Ig E. They are mediated by immunoglobulins: Ig G, Ig A, Ig M and Ig D. The Ig G antibody is the largest circulating antibody in our immune system (about 80-85% of our white blood cells) and can cross the placenta from mother to child. Ig G antibodies are the most common form of immunologic-mediated food responses. These antibodies combine with the food particles in the blood to form "immune complexes" which cause inflammatory reactions in tissues. Such inflammatory reactions can occur in any part of the body, thus producing many kinds of symptoms such as headache, eczema, joint pain, mental disorders, etc.
Ig E Food Allergy
Ig E Food Allergy is an Immediate Food Reaction that most people are familiar with.  As the name implies, this food reaction can occur within minutes or up to 3 hours after ingestion. Peanuts that cause anaphylaxis in a child is an Ig E food allergy.The reaction is caused by the presence of a high Ig E antibody levels in the blood, which sets off an immediate allergic response. Ig E antibodies make up only a small percentage of our immune system (about 5-10% of our white blood cells) but exert the most severe and life-threatening reactions. Symptoms can include rashes or full body hives after eating an apple, immediate vomiting or diarrhea from milk, or an intense headache after drinking wine. These reactions can be tested by either an allergist or a naturopathic doctor.
Symptoms of food sensitivities may include:
Chronic constipation
Diarrhea
Heartburn or Indigestion
Boating and gas
Abdominal cramps and pain
Acne
Eczema or Itchy skin
Hives
Migraines or headaches
Immediate fatigue after a meal
Increased heart rate
Hypoglycemia
Joint pain
Respiratory problems
DIAGNOSIS OF FOOD INTOLERANCES & FOOD ALLERGIES
Obviously, immediate food reactions can be identified easily. However, delayed food reactions are much more difficult to diagnose. According to recent research, IgE antibodies cause immediate food reactions and delayed food reactions are often associated with IgG antibodies. We test for both IgE and IgG reactions in our comprehensive food panels via a blood test. This test has a 99% sensitivity and reproducibility, and a 15% false negative. What the false negative means, is if you've avoided any particular foods for greater than 3 months, they may not show up on your results if you are reactive. To correct for the 15% false negative, it is advisable to have a liberal diet for several weeks prior to your blood draw.
All of our food tests include 96 IgG food sensitivities and 12 IgE food allergies. We also offer expanded panels that offer 184 IgG food sensitivities and 25 IgE food allergies. Please contact our office for price inquiries.
KETOGENIC DIET
In a nutshell, the ketogenic diet is a very low carbohydrate diet with adequate protein and high fat. While this may sound difficult for some, it's proven quite successful and we make it easier for you the get started. It has the best research outcomes and it has one of the highest rates of compliance long-term. People feel good, have lots of energy, lose weight; and this motivates them to keep it up.
We will provide you with resources, recipe ideas and get you started on the right track. Follow up visits allow us to monitor your body composition to ensure you are losing fat and not muscle mass, ensure you are consuming enough calories and to help you to lose weight successfully and for the long-term! Read more here to check out the latest research.