A Novel Therapy in Osteoarthritis – Pain Relief with Mistletoe Injections
Osteoarthritis is the most common form of arthritis and a leading cause of pain and disability1. It is estimated that one in every six Canadians suffer with OA, and even more concerning, the estimation will grow to 25% of the Canadian population by 2035 2.
A novel approach for OA pain has been gaining traction with a traditional plant called Mistletoe. Mistletoe has a long history of clinical use in cancer therapy for over 100 years. It's highly effective in integrative oncology for a variety of cancers due to is chemotherapeutic and immunostimulatory properties.  Today, mistletoe is showing promising relief for those struggling with osteoarthritis (OA) pain. 
What is Osteoarthritis exactly?
OA is characterized by the progressive loss of articular cartilage and remodelling of the underlying bone. X-rays will often show the "wear and tear" damage to the joints – commonly the hands, knees, shoulders, lumbar spine and hips. The patterns of degeneration we see include, non-uniform loss of joint space, osteophytes (basically "boney spurs"), subchondral sclerosing and deformity and/or misalignment of the joint.  
Our joint cartilage is composed of a dense extracellular matrix (ECM) made up of water, type II collagen and synovial fluid – a highly viscous fluid. Overtime, we lose the cushioning between our joints due to dehydration, nutrient loss (hyaluronic acid, MSM, magnesium, etc.) and misalignment. Common symptoms of OA include swelling, tenderness or pain, stiffness and inflammation.
Research with Mistletoe for OA 
Mistletoe (Viscum album) injections are a unique form of neural therapy that has been used for pain and dysfunction of the joints and muscles dating back to the 1930's. One clinical trial published in the Complementary Medicine Research Journal showed long-lasting benefits of mistletoe for pain reduction and improved joint health.
The study was a randomized clinical trial with 100 patients with confirmed OA of the knee.  They looked at 2 groups: one group used mistletoe therapy, and; the other group used diclofenac. Group A received mistletoe injections 2X/per week surrounding the knee joint, and group B used the medication diclofenac 75mg daily. Measurements included the Lequesne Index as a baseline and follow up.  After 4 weeks, the results in both groups were generally equivalent in acute pain-relieving effects. At 3 months however, it was the mistletoe group that maintained long term pain relief, after treatment was over. 
Clinic Examples of Real patients:
I want to mention a few successful outcomes with patients that have been treated with mistletoe therapy as these cases may relate to you or a loved one:
A 73-year-old man with longstanding OA of the knees tried mistletoe therapy. His pain scores were high (via WOMAC10 rating) at the start of treatment as 67/96, were then reduced down to a 40/96 after the first 3 treatments and were almost non-existent 3.5 months following end of the treatment (3/96). This patient had significant improvement in both quality and quantity of pain.
A 62 year-old man with OA shoulder pain (who had concurrent IV Vitamin drips), experienced a 90% relief after 6 treatments of mistletoe therapy.
A 46 year-old female with OA hip pain from avascular necrosis, gained 50% reduction in pain after 8 treatments.
A 61 year-old female pending PRP treatments opted to try mistletoe (prior to committing to a PRP therapy). After her mistletoe rounds, effective pain relief was achieved to the point where no PRP treatment was required.
Mistletoe is a stimulatory treatment where we inject into the joint area to gently promote the inflammatory cascade and stimulate the healing process. The primary physiological benefits include all of the following:
Local hyperaemia (improved blood flow)4
Analgesia (pain relief) 5
Improvement of microcirculation 6
Ultrastructural normalization of the ECM 7
Inhibition of collagenase activity 8,9
Increase of connective tissue collagen synthesis 8,9
How many visits do I need?
The number of visits is usually 6 to 8 treatments over 3-4 weeks. This helps to slowly build the immune response, provide pain relief and help improve structural integrity of the joint. Injections are very tiny and administered with a small insulin syringe – the kind that diabetics use.  Pain relief achieved with mistletoe therapy is directly related to the number of injections received. The most significant gain is usually experienced in the 3rd or 4th treatment.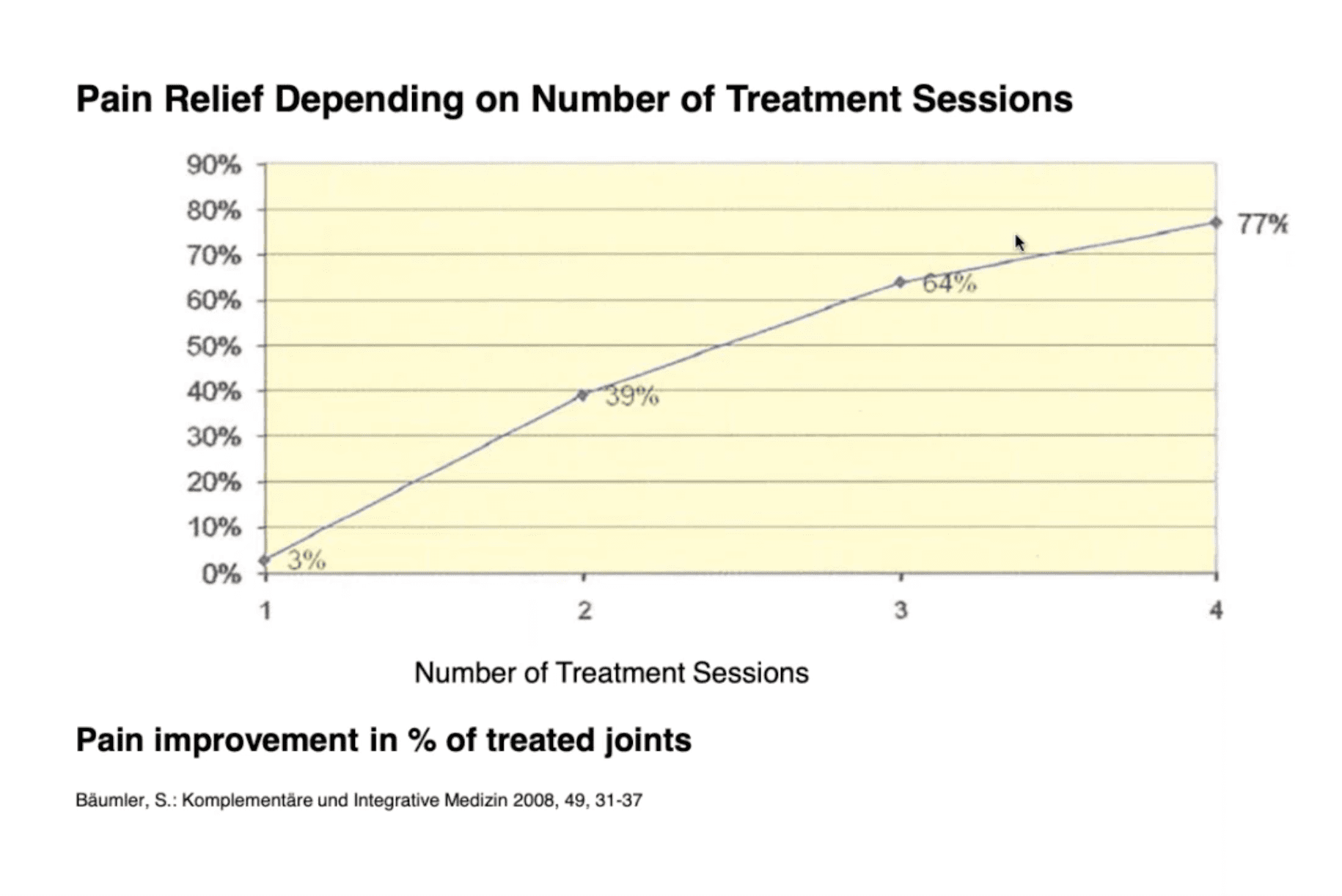 Other naturopathic approaches to osteoarthritis (OA) can often include diet & nutritional interventions, nutraceuticals, homeopathic remedies, cold laser therapy, IV vitamin drips and Platelet Rich Plasma (PRP) Therapy. ­­If you suffer with osteoarthritis pain, consider booking a consultation to learn more. 
References:
Cisternas, Miriam G et al. "Ambulatory visit utilization in a national, population based sample of adults with osteoarthritis." Arthritis and rheumatism Vo. 61, 12 (2009); 1694-703. Doi:10.1002/art.24897
Stange, R et al. Randomised Clinical Study of Mistletoe Therapy of Osteoarthritis of the Knee in Comparison to Diclofenac. Forscgende Komplementarmedizin 7, 2000, 52.
Elsner, W. Med. Klink 52, 1957, 1410-1412.
Zell, J et al. Heilkunst 106, 1993, 23-26
Klopp, R et al. Z. Onkologie 33, 2001, 6-14
Heine, H. Phytotherapie 6, 1985, 67-82
Proft, D. Dissertation Witten-Herdecke University 1990
Proft, D. & Bartholmes, P. J. Cancer Res. Clin. Oncology. 115, 1898, 36
WOMAC stands for The Western Ontario and McMaster Universities Osteoarthritis Index. It is a widely used, proprietary set of standardized questionnaires used by health professionals to evaluate the condition of patients with osteoarthritis of the knee and hip, including pain, stiffness, and physical functioning of the joints.