I don't know about you but when it comes to meals I always crave something fresh and crisp in the summer. These savoury fish tacos with cilantro slaw check all of the boxes and make for a perfect, nutrient-rich summer snack. This recipe is very versatile and we've included vegan adaptable alternatives.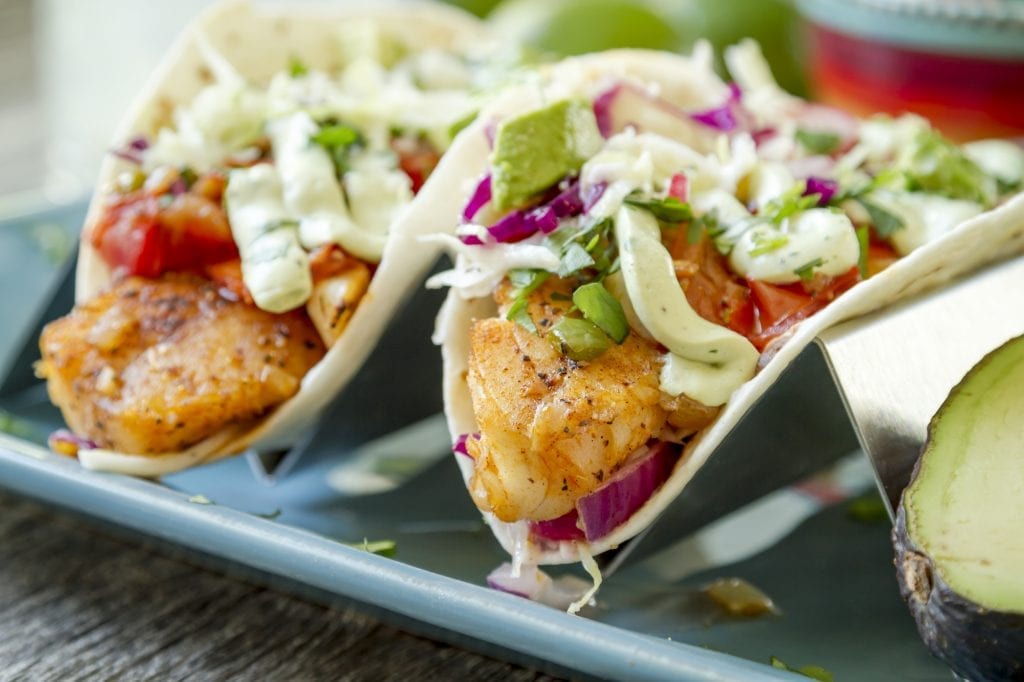 Ingredients:
1-2 lbs grillable white fish (pacific gray cod, halibut tails, basa, mahi-mahi, etc) or 1 pound extra firm tofu 
Tortillas of your choice (4 or 6″ shells; flour, corn or a blend)
Spice Rub: 
1 ½ tsp chili powder 
½ tsp cumin 
1 tsp coriander
1 tsp granulated garlic 
¾ tsp kosher salt 
½ sugar 
¼ tsp chipotle powder (sub cayenne or smoked paprika) 
Add ½ tsp smoked paprika for a more smokey flavor (optional)
Cabbage Slaw: 
1 lbs thinly sliced or shredded cabbage (green or purple) 
½ tsp kosher salt 
¼ cup thinly sliced red onion, more to taste 
½ cup chopped cilantro (packed). This is approximately ½ of a large bunch 
¼ – ½ of a jalapeno, finely chopped, more to taste 
¼ cup fresh lime juice, more to taste 
2 tbsp olive oil 
Garnishes: 
Lime wedges 
Avocado slices 
Chipotle mayo (vegan adaptable) 
Cilantro sprigs
Green Salsa
Instructions:
Preheat grill to medium-high heat.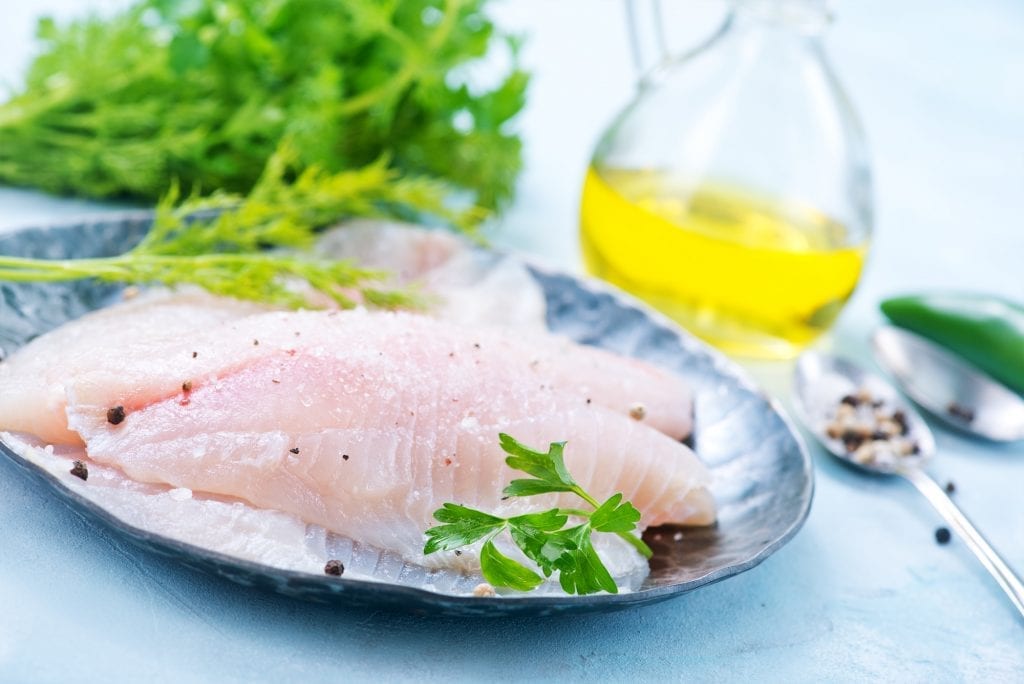 Rinse and pat dry fish. In a small bowl, stir fish rub spices together. Sprinkle all sides of fish lightly with the spice rub. Set aside.
If using tofu, place block of tofu on paper towels and press down gently to release more liquid, patting dry. Cut into 1 inch thick, 3-inch-long strips for easier grilling. Coat strips lightly with spice rub, grill on well-greased grill or pan-sear the tofu, until crispy, in a little olive oil.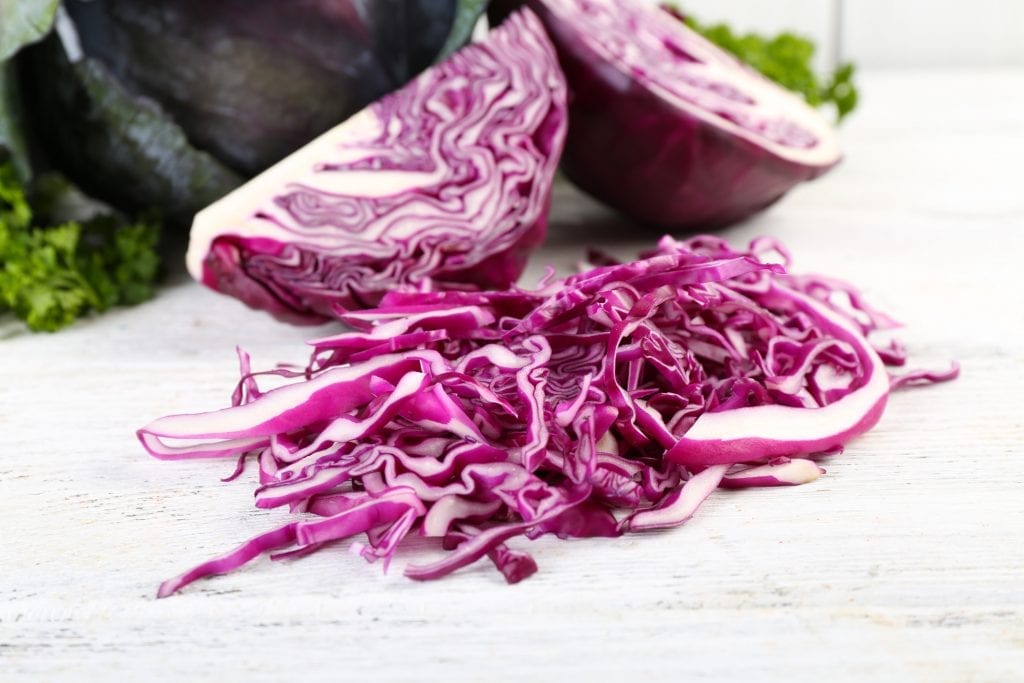 Place the shredded cabbage in a medium bowl. Toss with the salt. Add the onions, cilantro, jalapeno, lime juice, olive oil and toss well. Adjust lime, salt, and jalapeno, adding more to taste- you want this to taste tangy and flavorful. If your slaw tastes bland, add more lime and salt. 
Grease the grill (or cast iron skillet) well before placing fish on it. Turn heat to medium. Grill each side a few minutes, letting grill marks develop and use a metal spatula to flip. Cook until the desired doneness and squeeze with a little lime juice.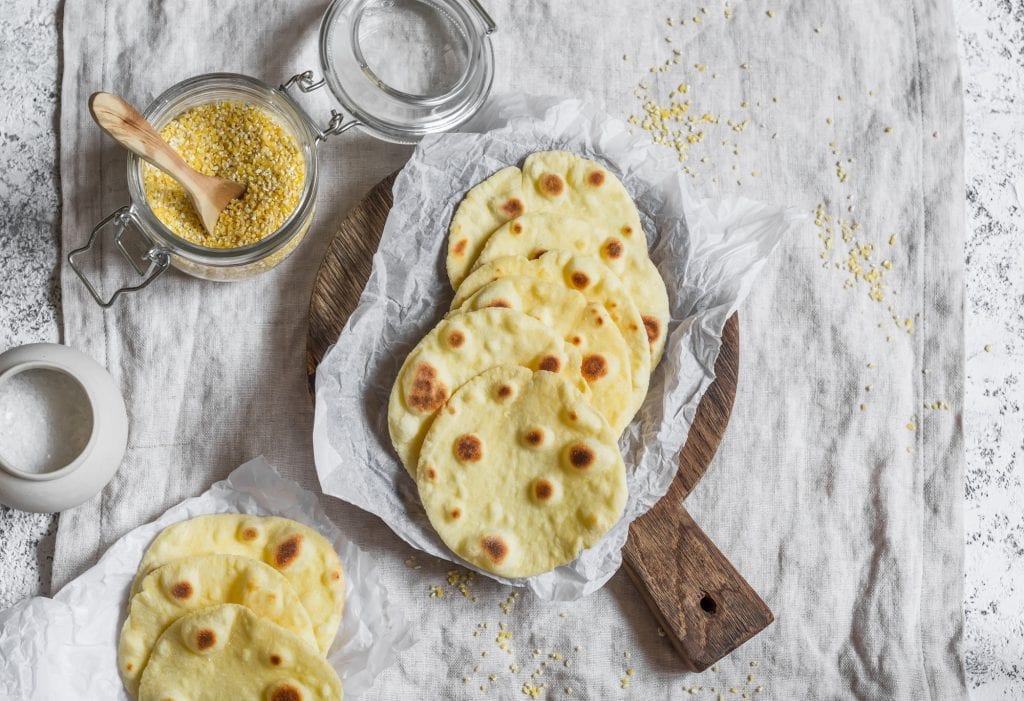 Then, quickly grill the tortillas, brushing with olive oil if you prefer. 
Assemble tacos by placing fish in the tortillas, top with cabbage slaw and optional avocado slice. Garnish with lime and cilantro. 
Drizzle with the optional Green Salsa or a chipotle mayo if you like.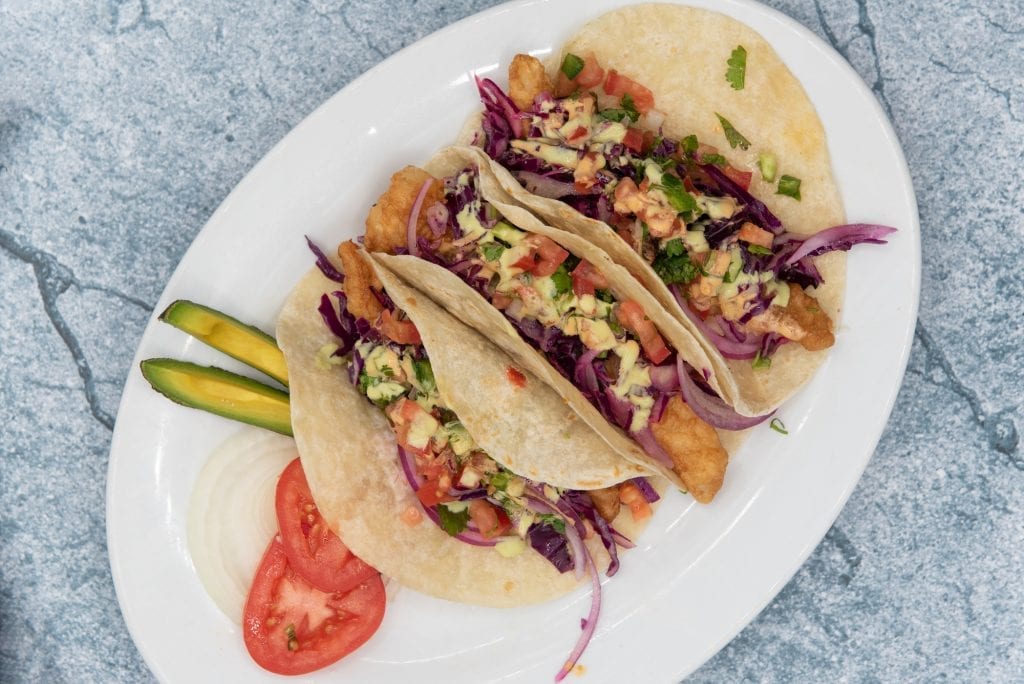 Serve hot and enjoy!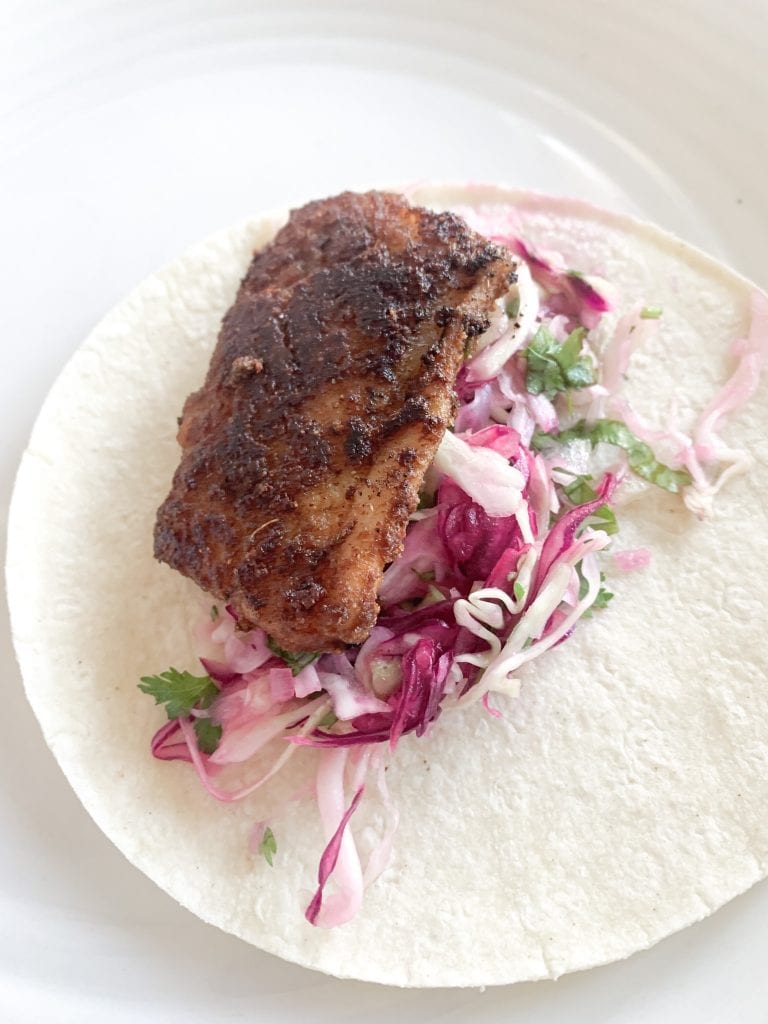 Source: https://www.feastingathome.com/grilled-fish-tacos-with-cabbage-slaw/