Prep Time: 15 minutes, Cook Time: 40 minutes, Total Time: 55 minutes
Servings: 6, Calories: 245 kcal
Did someone say sweet AND savoury?
Yes, you can have the best of both worlds.
This delectable salad is perfect for spring and summer. Serve it as a side dish or give it the limelight as the main course.
I love this recipe because it is packed with nutrient filled veggies, but it tastes absolutely divine.
Hints of smokey chipotle, crispy chickpeas, rich parmesan and creamy tahini are key players in this dish. You can wave goodbye to boring salads and embrace this colourful work of art.
The best part is, with all of the added hunger busters, fibre and healthy fats, this meal will leave you feeling full, balanced and satisfied.
I personally love prepping this salad as a work lunch, but it also is a great option when you're planning a meal in a pinch. It has a gourmet feel that make dinner guests think you went above and beyond, but don't worry, it's super easy to make.
Let's get started!
The Ingredients You'll Need:
For the Salad
2 small sweet potatoes, cut into ½ inch circles
¼ cup extra virgin olive oil
1-2 teaspoons chipotle chili powder, use to your taste preference 
2 teaspoons smoked paprika
Kosher salt and black pepper to taste
1 (14 ounce) can chickpeas, drained
1 large head kale, shredded
4 cups shredded brussels sprouts, or 1 additional head of kale
1-2 avocados, sliced 
Parmesan Tahini Dressing
¼ cup extra virgin olive oil
Juice of 2 lemons
2 tablespoons Dijon mustard
2 tablespoons tahini 
2 teaspoons Worcestershire sauce
1-2 cloves garlic, grated
Kosher salt and black pepper to taste
1/3 cup grated parmesan, plus more for serving
2 tablespoons fresh chopped parsley 
Instructions: 
1. Preheat oven to 425 degrees F
2. On a large rimmed baking sheet, combine the sweet potatoes, 2 tablespoons olive oil, chilli powder, paprika, and a pinch each of salt and pepper. Toss well to evenly coat. Transfer to the oven and roast for 20 minutes. Remove from the oven, add the chickpeas and remaining oil. Toss with the sweet potatoes and return to the oven for another 20 minutes, until the chickpeas are crisp and the sweet potatoes tender.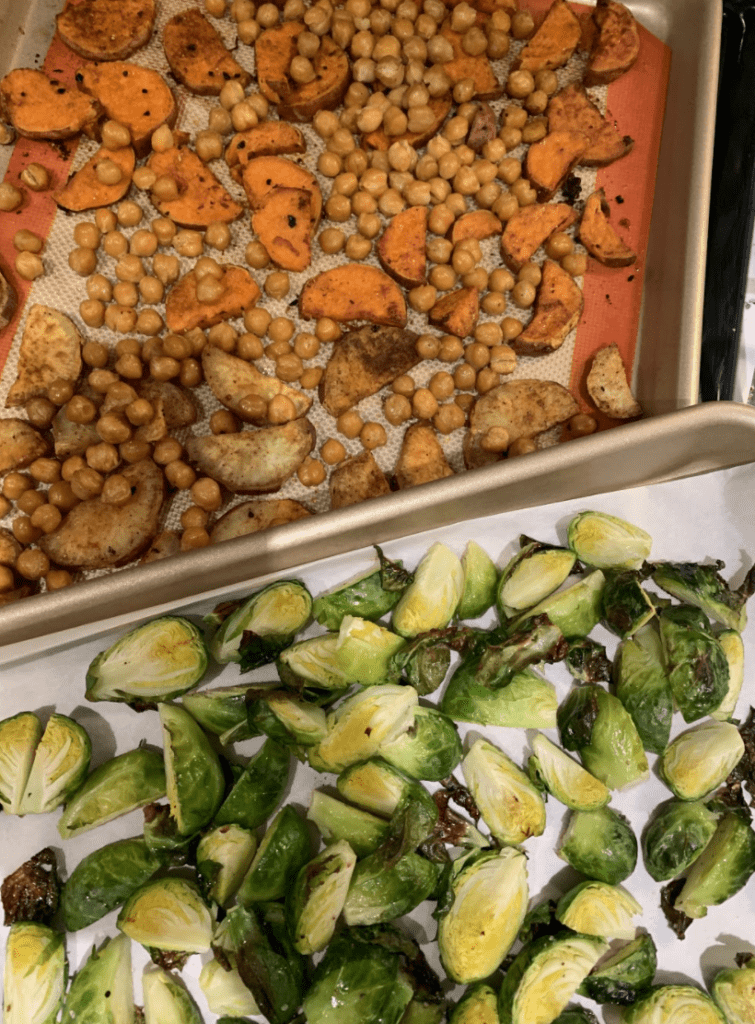 3. Meanwhile, in a large salad bowl, combine the kale and brussels sprouts. 
4. To make the dressing. Combine all ingredients in a blender and blend until smooth. Taste and adjust the salt and pepper. 
5. Toss the roasted sweet potatoes and chickpeas in with the salad. Add the dressing and toss to combine. Top the salad with avocado and additional parmesan. Serve and enjoy! 
The salad keeps well for 3-4 days in the fridge, add the avocados just before serving!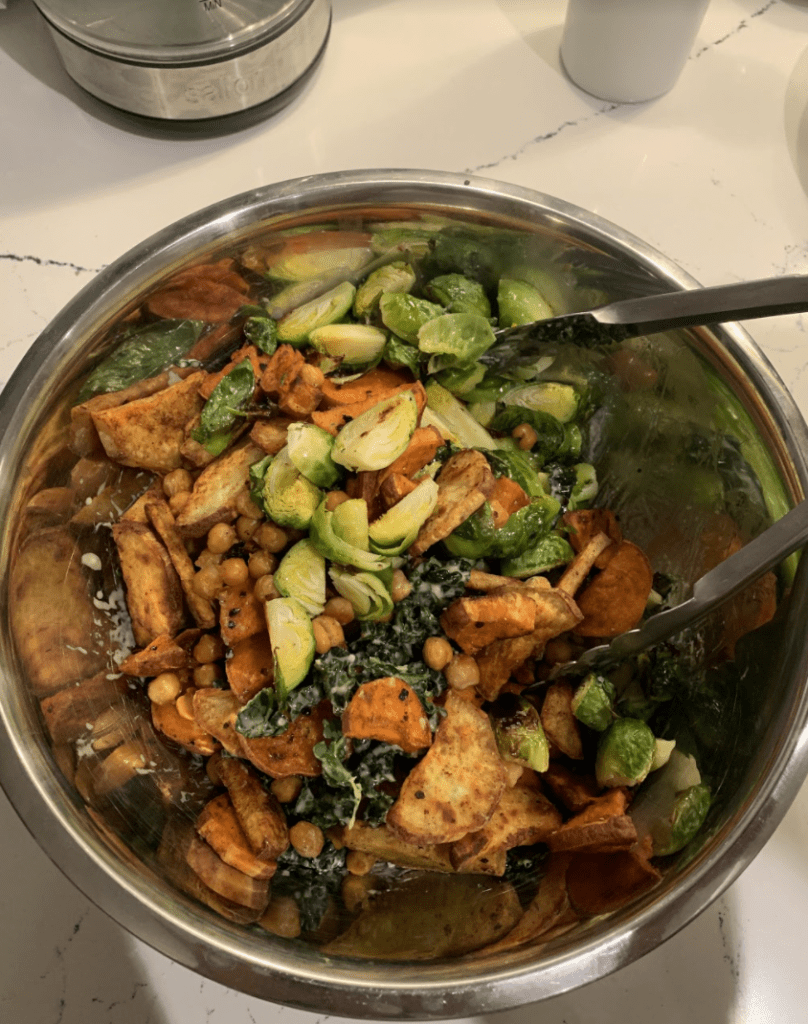 Bon appetit! Comment below if you made this salad and let me know if you enjoyed it.
Pro tip, mix up some of these crispy zucchini & broccoli fritters and serve as a side for an extra yummy meal! More recipes are coming soon.  
Original Recipe Courtesy of Half-Baked Harvest