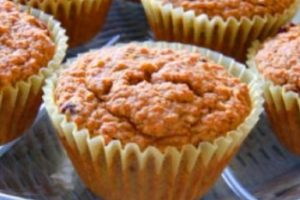 These gluten free carrot muffins are not only delicious, but the best gluten free muffins I've had, and are easy, moist and full of fiber. I used them during pregnancy for the extra fibre and iron!
Ingredients:
1/2 cup sugar, brown, or sugar substitute (you can substitute ¼ cup molasses to increase iron content)
1/2 cup organic butter, or earth balance
2 whole eggs
1 cup applesauce, unsweetened
1 teaspoon vanilla extract
1 cup oats (GF quick oats)
1 cup buckwheat or amaranth flour. (If you don't have a gluten sensitivity or allergy– I like to use organic bran buds for added fibre).
2 teaspoon baking powder
1/2 teaspoon baking soda
1 teaspoon cinnamon, ground
1/4 teaspoon allspice, ground
1 3/4 cup carrots, grated
1/2 cup raisins                        * Top with pumpkin seeds, if desired
Instructions:
Preheat the oven to 350°F. Line the cups of a 12-cup muffin pan with paper liners.
In a large bowl, mix the brown sugar or sugar substitute and butter. Add the eggs, one at a time, mixing well after each addition. Stir in the applesauce and vanilla. Add the oat flour, baking powder, baking soda, cinnamon, and allspice. Stir until the dry ingredients are just combined, but do not overmix. Fold in the carrots and raisins.
Fill each muffin cup three-fourths full with batter. Bake 25 – 40 minutes, until the tops of the muffins are lightly browned and a toothpick comes out clean when inserted in the center. Length of baking depends on how far the muffin cups are filled. Turn the muffins out on a wire rack to cool. Once cooled, the muffins can be stored in an airtight container at room temperature for up to 2 days, or frozen for up to 1 month. Always have a glass of water with your muffin!