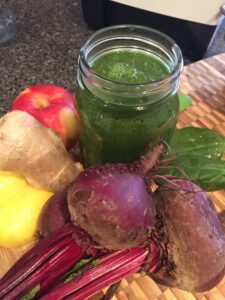 Spring and Autumn are the perfect time of year to cleanse with changing of the seasons. Load up and start blending!
You can make this in the mornings and share with a loved one. The fruit may change according to the seasons. (In the summer, we use peaches and nectarines instead of pears and apples). Organic and/or local is better. This smoothie has helped to shift the health of many of my patients for the positive. A daily morning smoothie made from fresh vegetables can aid in weight loss, reduce edema and inflammation, regulate the bowels, provide liver detoxification and more. It can literally change your health in a matter of days.
The fruit is a rich source of soluble fibre and a host of vitamins and antioxidants. The greens offer powerful phytochemicals. Kale and chard are powerful foods that affect many pathways in the body.  Ginger is a wonderful anti-inflammatory and carminative.  The lemon offers Vitamin C and Bioflavonoids. And yes – it tastes great!
This recipe will fill a Vita-Mix, so if you have a regular blender – divide the recipe in half.  (In this video link – I use half the ingredients, to prepare 1-2 servings).
Ingredients
2 apples, cored and cut into chunks
2 ripe pears, cored and cut into chunks
2 cups cold water
1/2 to 1 lemons, juiced
1-2-inch piece fresh ginger, peeled and sliced
5 kale or chard leaves, rinsed and torn (de-stem kale for a less gritty texture)
5 romaine lettuce leaves, or collard greens, rinsed
Handful of spinach leaves or beet greens (tops of the beets)
Serving Size: 2-4
Instructions
Place apple chunks, pear chunks, water and lemon juice into a blender fitted with a sharp blade or a Vita-Mix and blend until smooth and creamy
Add ginger, chard, kale, romaine lettuce, or spinach, and blend again until very smooth. Add more water for a thinner smoothie.
You can taste it now and if it is too "lettucy" for you then add another pear and blend again. Add more water for a thinner consistency.
Ideally, you want to consume this smoothie within 30 minutes.
OPTIONAL ADDITIONS/ALTERANTIVES : Kiwi fruit; pineapple chunks; Fresh parsley, fresh cilantro or fresh mint; hemp hearts; Bee Pollen
Source: The Whole Life Nutrition Cookbook by Alissa Segersten & Tom Malterre. (slight modifications made)