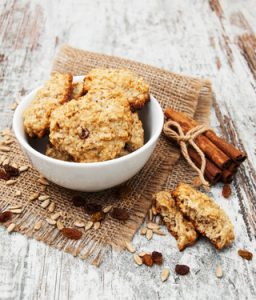 Gluten free, Dairy free, Detox-friendly. My family absolutely love these cookies! They are packed with protein and fiber. For new moms, you can omit the chocolate and serve these as lactation-promoting cookies. (To all the males out there: that doesn't mean this will make you lactate! – but it will aid in healthy cholesterol levels.)
Wet Ingredients:
¼ cup ground or whole chia seeds
½ cup hot water
½ cup melted coconut oil
½ cup unsweetened applesauce
1 cup almond butter
1 cup coconut sugar
1 tablespoon pure vanilla extract
Dry Ingredients:
5 cups gluten free rolled-oats
¾ teaspoon baking soda
¾ teaspoon sea salt
1 tablespoon cinnamon
Other Ingredients:
½ to 1 cup raisins, chopped
chopped dark chocolate bar (optional)
INSTRUCTIONS
Preheat oven to 325 degrees F.
Place the chi seeds into a large bowl and pour the hot water over them; immediately whisk together (otherwise it will clump up). Let rest for a  few minutes, then add the oil, apple sauce, almond butter, sugar and vanilla. Whisk well.
Add the oats, baking soda, salt and cinnamon. Stir well with a large wooden spoon. Add the raisins and optional chocolate. Stir again.
Drop by the large spoonful onto a lightly greased cookie sheet. Gently press each cookie down with the palm of your hand. Bake for 12-15 minutes. Cool on a wire rack.
Yield: 2 dozen cookies
Source: Nourishing Meals: Gluten-Free Recipes for the Whole Family