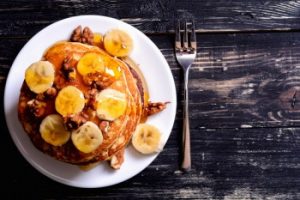 As the weather is getting nicer and we take our fitness goals outdoors, it is important to have a hearty dense meal to fuel our longer runs, rides, hikes or swims. I am guilty of always changing a recipe, so this is a combination of 3 that have satisfied my palette and my caloric needs before a long run.
Dry Ingredients:
1 cup Buckwheat flour
½ cup Amaranth flour
¾ cup Almond meal (walnut & hazelnut optional)
1 ½ teaspoon baking powder
¾ teaspoon baking soda
½ teaspoon salt
2 teaspoons cinnamon
Wet Ingredients:
1 cup banana, mashed (usually 3 bananas)
1 ½ cup almond milk
2 large organic eggs
2-3 tablespoons butter or coconut oil
2-3 tablespoons maple syrup
Instructions:
I love to cook my pancakes on a cast iron crepe pan on low-medium heat or temperature of 3-4. You can also use a heavy-bottomed stainless steel skillet on medium heat. For pancakes it is really important to let the pan heat for a few minutes on the stove before using it, so your pancakes don't stick.
Whisk together dry ingredients in a medium-sized mixing bowl. Add the wet ingredients and whisk together again.
Ladle batter into pan and cook 1-2 minutes or less on each side, depending on your stove top. Add a little coconut oil or butter onto pan before adding more batter as you cook.
Kitchen Tips:
* Nut meals can be very expensive. I buy large bags of whole nuts and grind in a ninja or food processor. Almond meal, walnut meal and pecan meal are my favourites.
* Extra twist: Add 2 teaspoons freshly grated nutmeg for a punch of flavour
* Egg Allergy? No problem. You can use chia seeds or flax seeds mixed in water as an egg replacer.
One egg replacer:
1 Tbsp of chia seed or flax seed
3 Tbsp of warm-hot water
Whisk immediately and let sit for 5 minutes until it gels, then add to your baking.
* Alternative: Substitute ½ cup almond milk and maple syrup with ½ cup french vanilla coconut creamer