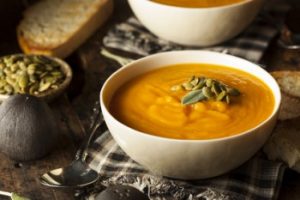 This is one of my favourite fall/winter recipes to warm up with, after a cold morning outside. It pairs well with our recommended delicious Pumpkin Cornbread recipe. It is wheat-free, gluten-free, dairy-free, soy-free and candida-friendly.
Ingredients
3 Tbsp. olive oil
3 onions (chopped)
4 cloves garlic (minced)
2 butternut squash
6 cups of water
2 vegetable stock cubes
2 apples (peeled, cored and cubed)
3 bay leaves
1 ½ tsp. curry powder
¼ cup cashews (toasted and chopped)
Instructions
Preheat oven to 350 degrees F. Cut squash lengthwise and remove seeds. Place face down on a baking dish. Add ½ cup water and bake for 1 hour. (This step may be done the day before).
In a large soup pot, sauté onions. When onions have softened, add garlic
Peel skin off of squash or scoop out flesh and add to onions and garlic
Add water and boullion, apple, curry powder, and bay leaves and bring to a boil.
Reduce heat and allow simmering for 40 minutes (or as long as 90 minutes) until apple and squash have completely dissolved into soup.
Remove bay leaves and puree with a hand blender directly in a soup pot or pour soup into a blender and blend until smooth
Serve soup and garnish with toasted cashews or pumpkin seeds.