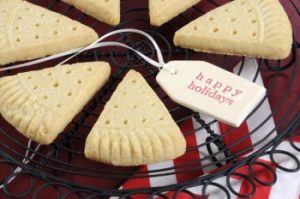 The origin of the word shortbread is much debated, but it seems to have come from an old French word for a gift given at New Years. Shortbread cookies are delicate – they are crumbly, taste of butter and vanilla and will melt in your mouth. (I highly encourage using organic butter in any baking recipe – yes, more expensive but a better option for your health – as much as butter can be!).
Ingredients
¾ cup/170g unsalted butter, cut into smaller pieces, plus more for greasing the pan.
1 ¾ cup/245g Jeanne's Gluten-free All-purpose flour (see below)
Pinch of salt
½ cup/100g granulated sugar
½ tsp. pure vanilla extract
Instructions
Preheat the oven to 350 degrees F. Grease a 9-inch/23cm pie pan with butter.
In a bowl of a stand mixer, fitted with a paddle attachment, beat the flour salt, butter, sugar, and vanilla on medium until the mixture looks like wet sand (this may take a few minutes).
Turn out the dough into the prepared pie pan. (It will pour like wet sand.) Carefully press the dough into the pie pan. The dough should cover the bottom of the pan and not go up the sides. Before baking, with a sharp knife, cut 12 to 16 wedges. I recommend cutting the dough into half, then into quarters, etc. After you've cut the dough, prick it all over with the tines of a fork.
Bake until the edges begin to brown, about 40 minutes. Remove from the oven and place the pan on a wire rack to cool. With a sharp knife, carefully recut the cookie wedges. Let the cookies cool completely. Store in an airtight container at room temperature for up to 3 days, or in the refrigerator for up to 7 days.
Makes 12 to 16 wedges.
Jeanne's Gluten-free All-purpose flour
Ingredients
1 ¼ cups brown rice flour
1 ¼ cups white rice flour
1 cup sweet rice flour
1 cup tapioca flour
Scant 2 tsp. xanthan gum
Instructions
In a large bowl, whisk together all the flours thoroughly.
Transfer the mix to an airtight container.
Store in a cool, dark place for up to 6 weeks or in the refrigerator for up to 4 months.
Yields 4 ½ cups.
Recipe Source: Gluten-Free Baking for the Holidays by Jeanne Sauvage