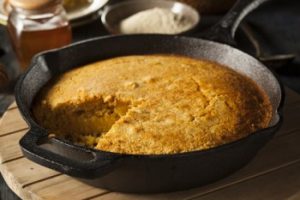 Both gluten-eating and gluten-free folks will enjoy this cornbread recipe. It is moist, slightly sweet, and full of traditional cornbread flavor we have all come to know and love. For those of us who don't have any sugar pie pumpkins on hand to make our own puree, you can use canned pumpkin or any type of winter squash puree, such as butternut, kabocha, or acorn. Sprouted brown rice flour works well here in place of regular stone ground flour.
Dry Ingredients
1 ½ cups cornmeal
1 cup brown rice flour
1 tablespoon baking powder
¾ teaspoon sea salt
Wet Ingredients
1 cup pumpkin puree
1 cup milk (I use organic soy, or almond milk)
1/3 cup melted coconut oil or butter
1/3 cup honey
2 large organic eggs
Instructions
Preheat oven to 350 degrees F. Butter a 7 X 11-inch glass baking dish.
In a medium-sized bowl, whisk together the dry ingredients. In a separate large bowl, whisk together the wet ingredients. Pour the dry into the wet and whisk together well. Scoop the batter into the buttered baking dish and spread it out evenly with the back of a spoon.
Bake for 35 minutes. Let cool slightly before serving.
Yield: 8 to 10 servings
Ingredient Tip: I use Arrowhead Mills corn meal because it is both organic and gluten free.
Recipe Source: Nourishing Meals: Healthy Gluten-Free Recipes for the Whole Family