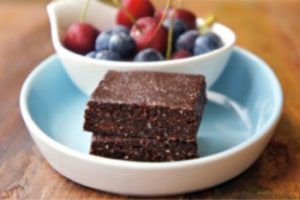 Pulse the following ingredients in a food processor until coarse but well-blended:
FRUIT — 2 cups Medjool dates, pitted and chopped
NUTS —  2 cups raw walnuts, ½ cup raw cashews
FLAVOURINGS — 3/4 cup cocoa powder, dash of sea salt
Add to your food processor:
½ cup of unsweetened shredded coconut
2 tablespoons of vanilla extract
2 to 3 tablespoons of cold water
Pulse until the whole mixture comes together like a dry, but moist, dough. Then press it into a 11 ½ x 4 ½ inch prepared, aluminum foil-lined pan (or grease with coconut oil) with a rubber spatula. Cover and allow it to chill in your refrigerator for several hours or overnight for best flavor and consistency. Cut into squares and serve OR package in wax paper and stack in the fridge for a quick grab-and-go.
Make use of what you have:
The original recipe calls for 2 cups raw cashews, ½ cup raw almonds. However, I prefer the health benefits of walnuts (and they're less expensive than cashews). I also ran out of dates and so I replaced 1 cup of dates with ½ cup dried cranberry and ½ cup of apple sauce. It was still delicious!
Variation – You can also add 1/3 cup of chia seeds for extra Omega 3 and fibre.