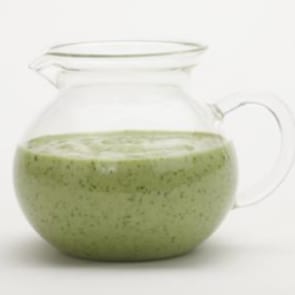 I love this recipe as a dip with rice chips or tortilla chips. Our guests always rave about the flavor and freshness of this dip. But it is also wonderful as a tangy, creamy cilantro-avocado dressing on a salad of romaine lettuce, grape tomatoes and black beans, with crumbled tortilla chips or toasted pine nuts on top.
Ingredients
1/2 ripe avocado
3/4 cup packed fresh cilantro
1/2 cup nonfat plain organic yogurt
2 scallions, chopped
1 clove garlic, quartered
1 tablespoon lime juice
1/2 teaspoon cane sugar
1/2 teaspoon salt
Instructions
Place avocado, cilantro, yogurt, scallions, garlic, lime juice, sugar and salt in a blender; blend until smooth.
Tips & Notes
Make Ahead Tip: Cover and refrigerate leftover dressing for up to 3 days.
Borrowed from www.eatingwell.com