Refreshing Thai Salad Wraps & Garlic Ginger Peanut Sauce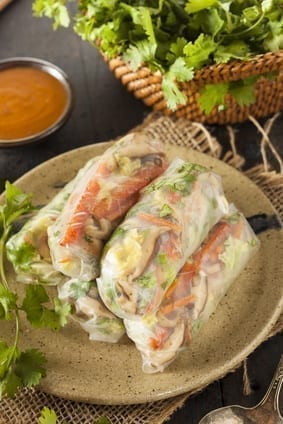 Take a twist on salad and roll it up! They are delicious with a Garlic Ginger Peanut Sauce and although not very filling, they are highly nutritious so you can eat many at a time! You can find tapioca flour paper or rice paper wrappers at your local Asian market and most health food stores. They are paper thin and become translucent once softened in water.
Ingredients:
15-20 tapioca or rice paper wrappers
1 small head of leaf lettuce, rinsed and spun dry
2 cups thinly sliced red cabbage
1 large red bell pepper, seeded and thinly sliced
1 cucumber, sliced into very thin strips
2 to 3 carrots, shredded
large handful fresh basil leaves
large handful fresh cilantro, chopped
large handful sprouts of any kind (alfalfa, mung bean, broccoli)
small handful fresh spearmint leaves
Directions:
To soften wraps, fill a 10-inch skillet with hot water, place each wrap in the hot water to soften for about 30-60 seconds. Don't leave them in the water too long, to avoid having them break apart. You will need to change the water 3 times during the process to keep it fresh and hot.
For the filling, tear the lettuce into small pieces and place into a large bowl. Add the remaining ingredients together into the bowl and toss together.
To assemble the wraps, place a softened tapioca paper onto a plate. Add a handful of filling to the bottom of the wrapper. Facing the wrapper, think of a north, south, east, west orientation, your vegetables would be on the south end, fold the west and east end in, then tightly roll up towards the north.
Repeat this process with remaining filling and wrappers. To store leftovers, place into a container, layered between wet paper towels. Cover the top layer with a wet paper towel.
Yield: 6 servings
Garlic Ginger Peanut Sauce
This is delicious on top of sautéed dark leafy greens and cooked quinoa, but my favourite is a dip for Thai Salad Wraps. If allergic to peanuts, try replacing the peanut butter with sunflower seed butter.
Ingredients:
½ cup creamy organic peanut butter
½ cup water
2 tablespoons toasted sesame oil
1 ½ tablespoons wheat-free tamari or coconut aminos
1 tablespoon brown rice vinegar or coconut vinegar
1-2 cloves garlic, peeled
1-inch piece of ginger, peeled
pinch red chili flakes
Directions:
Place all ingredients into a blender and blend until smooth.
Pour into small serving dishes to use as a dip.
Store in a covered glass container for up to 5 days in the refrigerator.
* TIP – You can add a little more water and use it as a salad dressing.