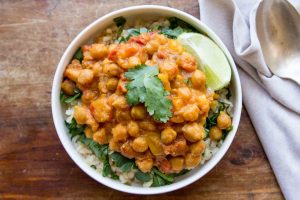 Indian curries are delicious and warming, but intimidating for some due to the precision of the spice blends. You can cheat and use Patak's curry paste and it works great every time! If you have a garden – It's a great recipe for August when all the tomatoes and kale start growing all at once.
Ingredients:
4 cups ripe tomatoes (approx. 8 Roma or Vine-ripened tomatoes) diced
3 cups kale (or 4 cups spinach) chopped
2 cups chickpeas cooked or 1-796ml can of chickpeas (drained and rinsed)
1 onion (diced)
1-2 Tbsp. grapeseed oil or any light flavoured cold pressed oil
1-2 Tbsp Madras Curry Paste (Patak's brand)
Sea salt to taste
¼ cup fresh cilantro (chopped)
2-3 inches ginger (grated)
Directions:
Sautee onion in oil. When onions have softened, add tomatoes and kale (or spinach). Cook on medium heat for 20 minutes or until tomatoes have broken down and are no longer small separate pieces.
Add chickpeas
Season with 1 Tbsp of curry paste: Using a ladle, scoop out one spoonful of liquid and add curry paste. Mix well until curry paste has completely dissolved in liquid. Add curry paste dissolved in liquid back to pot. Then, season with salt. Taste. If you would like it spicier, add more curry paste in the same manner.
Remove from heat. Add ginger and stir together. Top with fresh cilantro and serve over brown rice, quinoa or millet.