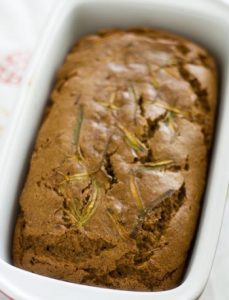 This is a cinnamon laced tea bread made with garden fresh zucchini.
You can make this lovely gluten-free zucchini bread with or without eggs. And it's dairy-free. Its delicate flavor comes from a secret ingredient. Coconut milk.
Preheat your oven to 350ºF. Line the bottom of a 9-inch loaf pan  with a piece of parchment paper. Lightly oil it.
Ingredients:
1 rounded cup of fresh, grated zucchini (I partially peel my zukes, in stripes)
1 cup sorghum flour
1/2 cup tapioca starch (or tapioca flour)
2 teaspoons baking powder
1/2 teaspoon baking soda
3/4 teaspoon xanthan gum
1/2 teaspoon fine sea salt
2 teaspoons cinnamon
1 cup brown sugar
1/3 cup light olive oil or coconut oil
2 free-range organic egg whites, beaten or egg replacer (1/4 cup liquid)
1/4 cup coconut milk
1 teaspoon fresh lemon or orange juice
1 tablespoon bourbon vanilla
Optional:  1/3 cup chopped walnuts or pecans
Instructions:
Press the grated zucchini with a paper towel to remove as much moisture as you can. After pressing, fluff with a fork. Set aside.
In a large mixing bowl, whisk together the sorghum flour, tapioca starch, baking powder, baking soda, xanthan gum, sea salt, and cinnamon. Add in the brown sugar.
Add the oil, lemon juice, egg whites or egg replacer, and the coconut milk. Beat to combine and continue to beat on medium high until the batter is smooth- about two minutes.
Add in almost all of the shredded zucchini (I save out a few shreds to decorate the top of the loaf) and stir by hand to combine. If you are adding nuts, stir them in to distribute.
Scoop and scrape the batter into the prepared loaf pan and using a silicone spatula , even out the top.  Add a few shredded zucchini strands to the top.
Bake in the center of a preheated oven until the top is golden and firm, yet gives a bit when lightly touched. It should feel slightly springy. This may take anywhere from 50 to 60 minutes. Test with a thin sharp knife or a wooden pick- either should emerge with no crumbs or batter.
Cook time: Approx. 1 hour
Yield: 1 9-inch loaf
Recipe Source: glutenfreegoddess.blogspot.com
GFG Tips on gluten-free bread baking:
Make sure your batter isn't cold when you put it into the oven. If you keep your flours in the fridge, for instance, this will cool down your batter quite a bit.
If you find your batter is cooler than room temperature, allow the batter to rest in the pan near the pre-heating stove and let it come to room temperature before you place the bread pan in the oven to bake (I also do this with cakes sometimes).
The first time I tried making gluten-free zucchini bread I did not press the moisture out of the shredded zucchini and my loaf was gummy in the middle from too much moisture.
If you find your tea breads and cakes turning out gummy, or falling after baking, you may want to take your oven's temperature- some ovens never quite reach the proper temperature. You can combat this by baking longer, or upping the temp a bit. If the oven temp is not the issue, then start adding a tablespoon or two less liquid to your batters (you may live in a humid climate and your flours may be absorbing moisture; too much moisture can make for a gummy product).
Compliments of Gluten-Free Goddess posted August 2010 by Karina Allrich.